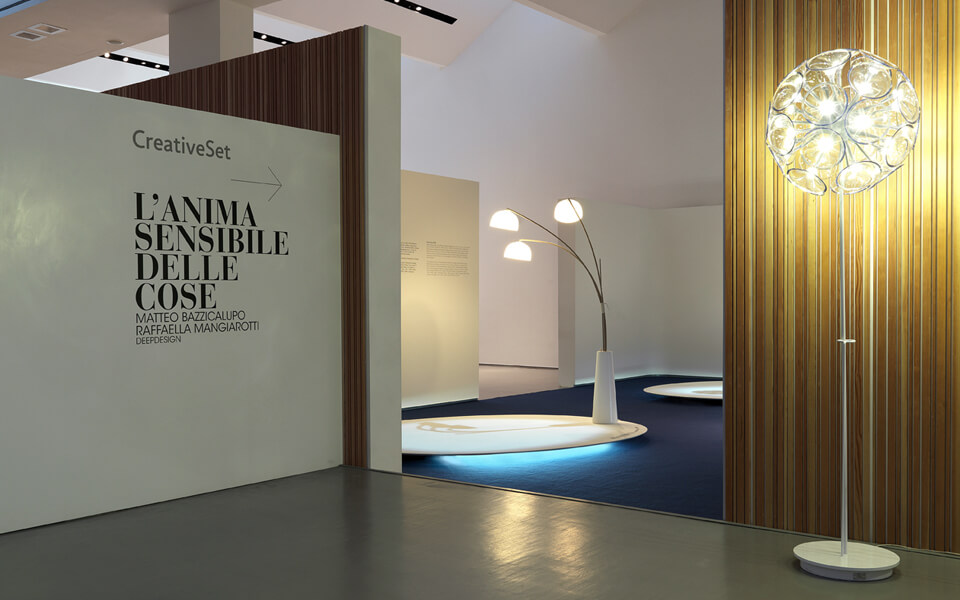 GIVING A VOICE TO THINGS
Text by Cristina Morozzi
Conceiving and preparing the installation for an exhibition of projects means giving a voice to things: enabling them, through the forms, their functions, their workings and, though they are inert, their relationships.Arranging and displaying objects is equivalent to placing words in sequence to compose an "experiential" text.
It means transforming the subjective spirit (the purpose behind the project) into an objective spirit (the "thinginess" of the product). The object becomes legible if it is assigned a place that will facilitate the transmission of its symbolic values.
The challenge is to set things out so that they come to life, as in Hans Christian Andersen's story of "The Steadfast Tin Soldier;" to vitalize the inorganic so as to restore to it all that the prevalence of the values of use and exchange had removed from it. It is a question of enhancing the capacity of things to emanate only their own meanings, to make them sounding boxes of the ideas that have inspired their project and shaped their aesthetics.
So, rather than talk about things in and for themselves, I would like to offer my reflections on how they found their places in the exhibition.
Narrator make each object
Assigning each project to its place in an exhibition space, a neutral place, lacking stratifications of significance, means enabling each to tell a story: stories of meaning and emotion, stories of function and relationships, but also of process, invention and sources of inspiration. In order to give a voice to things it is essential to interpret them, both with the affectionate participation of those (the designers) who created them and lavished care on their development, but also with the detachment of one (the curator) who, without knowing their history and their reason for existing intimately, seeks to decode their language.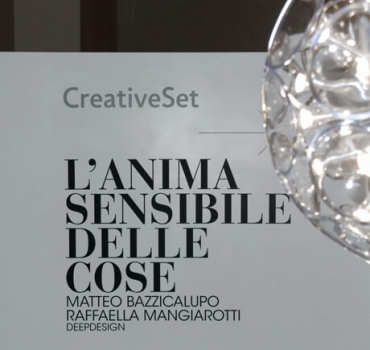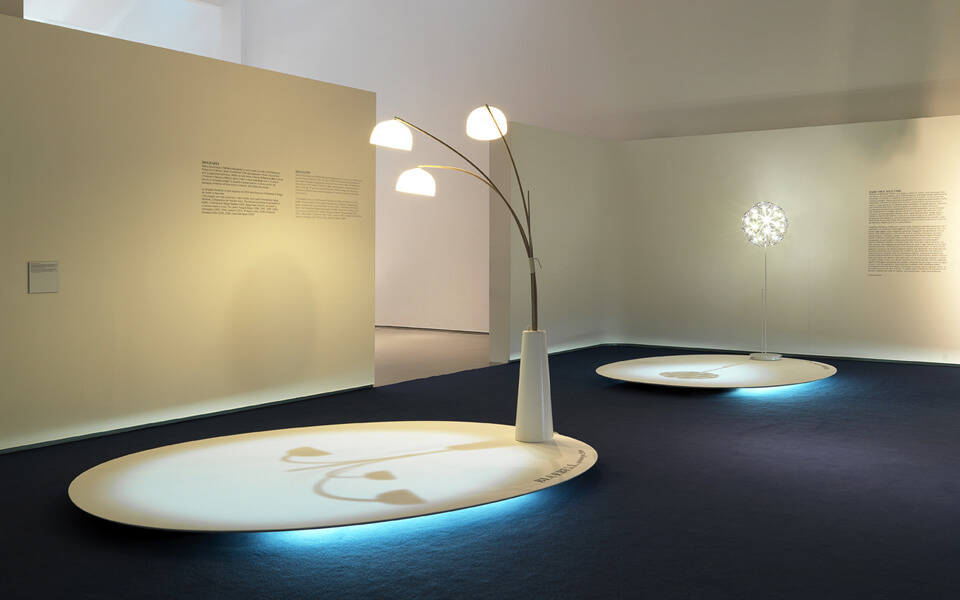 In recounting their projects, the designers (Raffaella and Matteo) speak of "nature, the perfection of its forms and processes, perfectly simple and at the same time extremely complex.
The meeting between organicism formal and functional complexity
The section of an orange or a pea pod," they write in their philosophy of design, "have a geometry that is astonishing when examined carefully. Formal organicism and functional complexity are combined spontaneously in nature but perfectly without redundancy or aesthetic rigidity, in a pure economy of form. When we design, this is our ambition."[…]
There is little else to add, except on the material and preverbal level: a delicate sensuousness in the forms, a renewed idea of grace accompanied by efficient and innovative functions. To describe how to use their hairdryer, which is quite different from all other hairdryers, Raffaella significantly mimes the gestures of the user, explaining how to treat the keratin in the hair, the upright posture, emphasizing its stability………. With the Dandelion floor lamp, she stresses how it sways, as if moved by a light breeze…. To explain Pulse, the innovative washing machine designed for Whirlpool, Matteo evokes uterine contractions…Raffaella and Matteo design for the real world, as Viktor Papanek urged 35 years ago.
Design for everyday life
They design useful appliances (washing machines, hairdryers, vacuum cleaners…) for everyday use, while creating elegance and outstanding quality, which is increasingly rare. It emanates from their objects like a pervasive radiation, immaterial yet perceptible. Their forms, like those of the orange and the pea, are quintessential, without the least redundancy, spare, yet soft and graceful.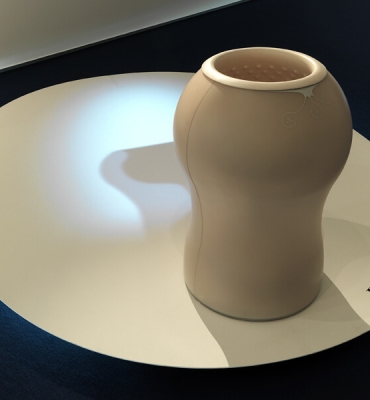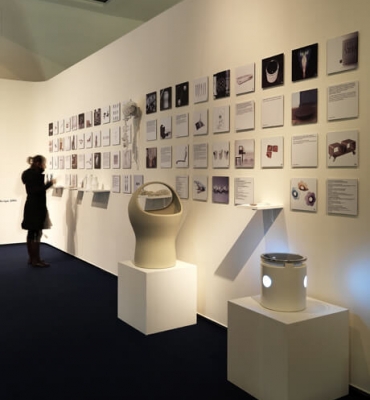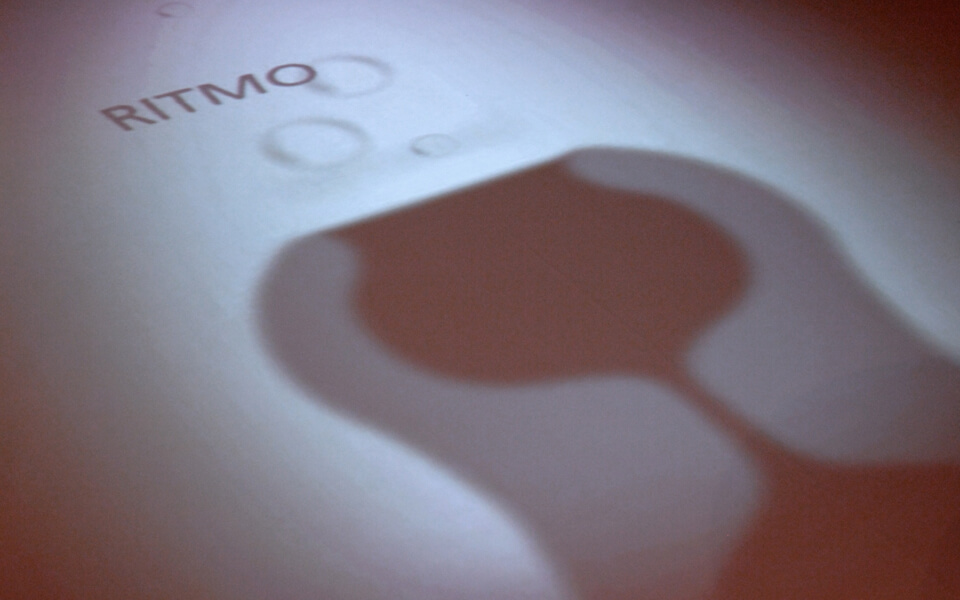 The curator imagined that to give a voice to their things we needed to emphasize their "grace", defined by Friedrich Theodor Vischer as "a middle form of free and clear half-light, something unconscious and yet aware…
…That surprising middle state in which one is as if suspended" (in Raffaele Milani, I volti della grazia, Mulino, 2009). Hence it is fitting to reconstruct the aura and allure of their elegance. So she felt it was necessary to lay them out like a poem: words as epigraphs, isolated in a light, harmonious landscape[…]
things defined and narrated by sensations and fleeting shadows
Then rustlings, scents (Raffaella designed "Bloom", a perfumed necklace for San Lorenzo), and chamber music (their projects include "Flat piano", a new hybrid, a table/piano), evocative of bourgeois decorum, a style of living related to elegance and charm. And nothing else. The very minimum. On display are only the things defined and recounted by sound and scent sensations, by elusive shadows. The designers (Raffaella and Matteo) want a more detailed story to describe a design practice which, by starting from the analysis of concrete elements, is embodied in classic drawing, in the manner of Magistretti. They fear an excessive dematerialization and seek to emphasize a certain "ancient materiality" in their design work, by means of descriptive tables, drawings…….
It will be the exhibition, in its final configuration, that will suggest the textual tone.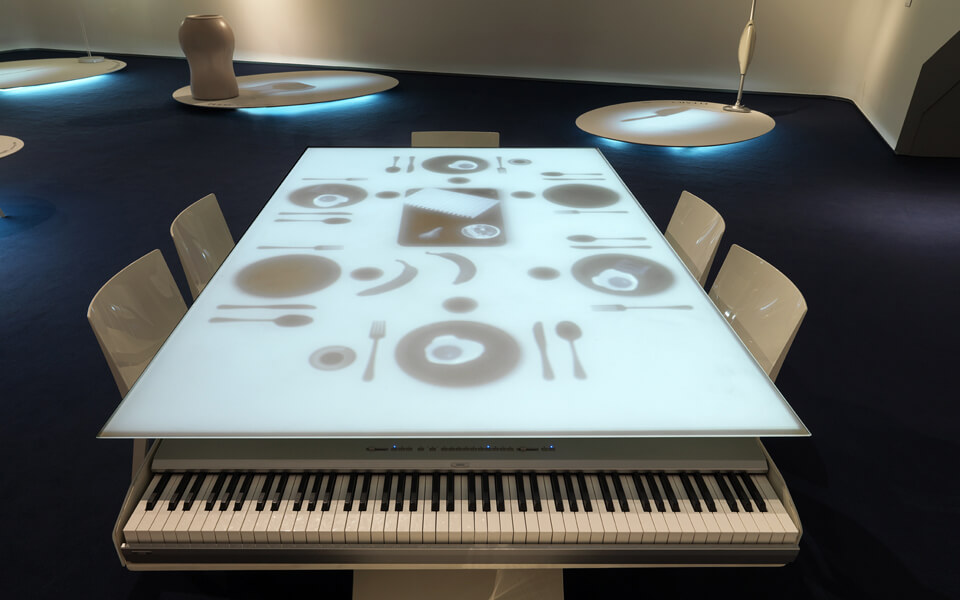 Can an exhibition satisfy designers' urgency to recount?
Perhaps not, or at least, not entirely. The voices of things is equivalent to a happy ending.
The surprise ending conceals the complexity of the plot, as if the effort of keeping together the reasons of making were resolved by magic in the perfection of the final result. Or rather, it is actually "perfection" that excludes their laborious genesis from the "stories of things".[…]
Raffaella and Matteo's time span is prolonged. It is not the initial idea that counts, but to make it grow, fostering it lovingly by hand in every phase of its development, until its production, nurturing it with the steadfastness of their convictions.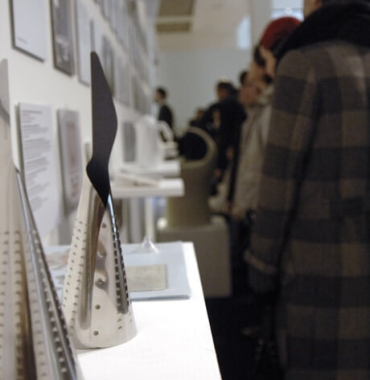 The meeting of two sensitivity
Its gradual and harmonious growth produces the elegance and grace, never declaimed, in fact whispered with the modest discretion produced by the encounter between two sensibilities, one male and the other female, revealed in their finest expression, Trust in the goodness of the process also entails the creation of products lacking a client, completed in the conviction that following the development of things with passion always leads to quality results, valid in themselves, and not because functional to some specific brief.
A sweet innovation , between tradition and future
For them designing means questioning themselves about the essence of the product, returning to its origins and the reasons for its existence. It means looking at things as they are and thinking how they might be. Innovation is never purely technical and complex, but gentle, because it is relevant to people, their experience and cultural roots. In this new humanism there is the purity of an idealist outlook that believes in evolving, while clinging firmly to the values of tradition.
Text by Cristina Morozzi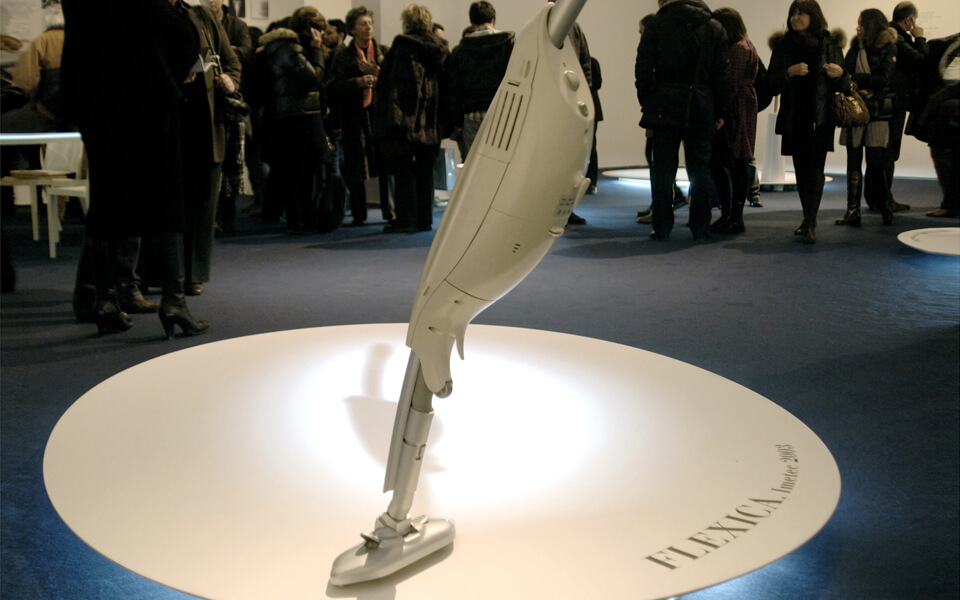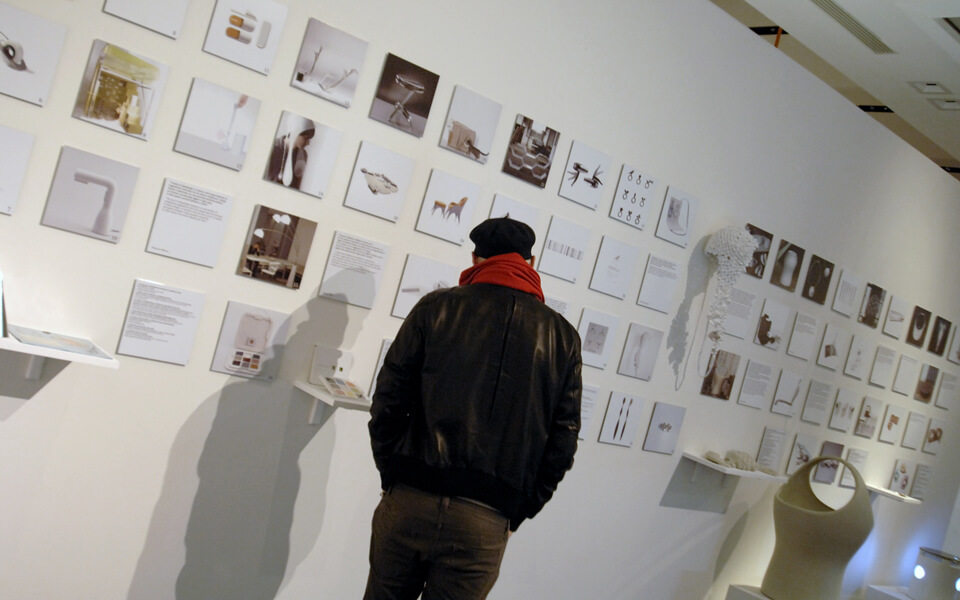 L'ANIMA SENSIBILE DELLE COSE
The exhibition is a selection of the work of deepdesign, whose path is driven by intensive research on the forms, technologies and new materials, which often tends to a radical reinterpretation of the types.
---
LOCATION: Triennale Design Museum
DATE: 2008
GIVING A VOICE TO THINGS
Cristina Morozzi
CHILDREN OF "MODERN" THOUGHT
Silvana Annicchiarico